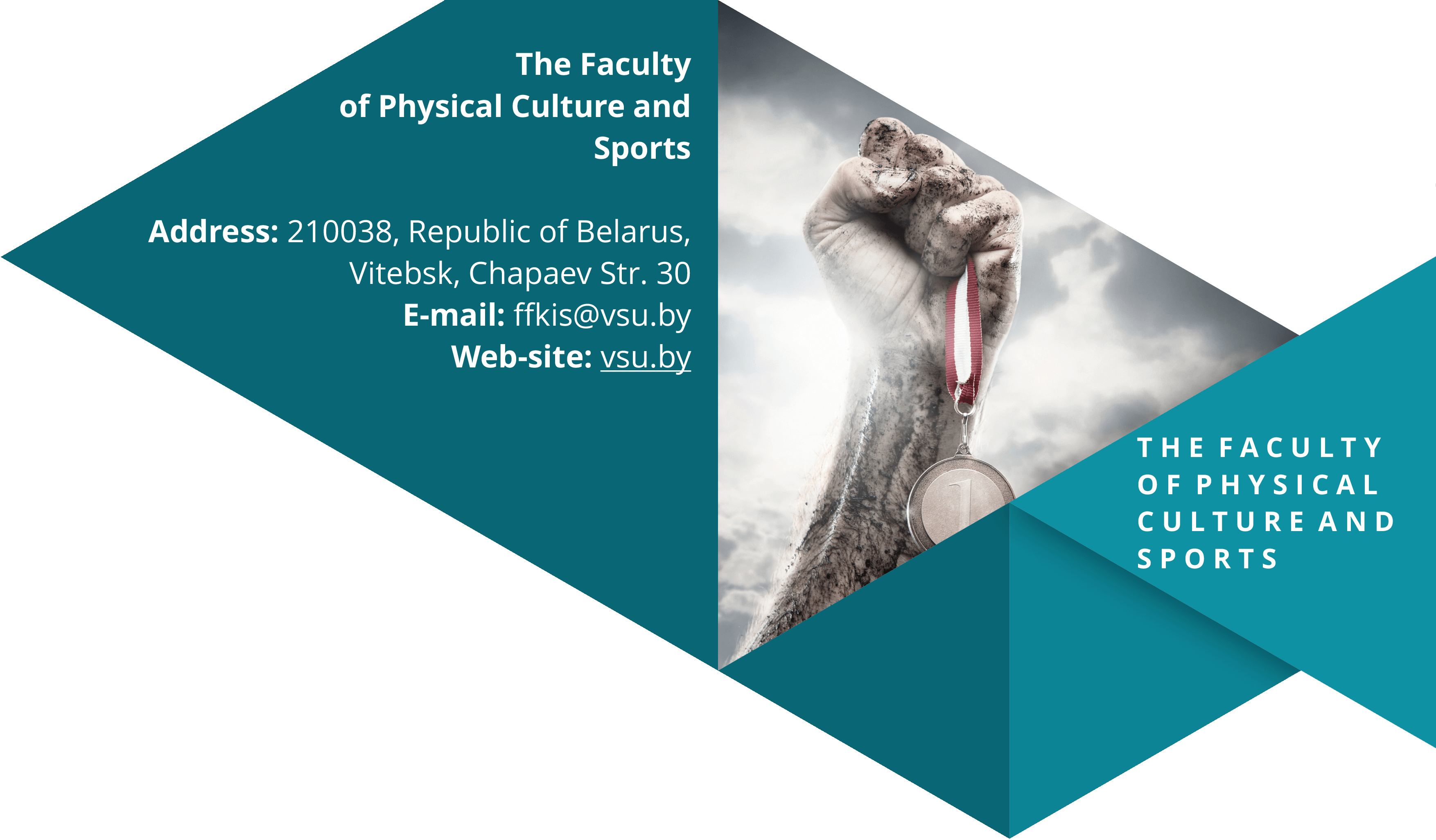 The Faculty of Physical Culture and Sports today is a union of professionals aimed at the absolute victory in all competitions of local and world significance.
The faculty has its own library, canteen, first-aid post, museum and scientific center.
Graduates of the faculty are able to continue their education in graduate school and getting a master's degree.
A lot of masters of sports, Olympic medalists, the champions of the European and World Championships are graduates from the Faculty of Physical Education.
The Department is headed by Doctor of Science and Associate Professor is Victor Grigorievich Shpak.
Chairs:
Chairs of the Theory and Methods of Physical Education and Sports medicine;
Chairs of Sports-pedagogical disciplines;
Chairs of Physical Education and Sport.
Undergraduate education
The Faculty trains Specialists in "Physical culture" granting the qualifications "Teachers".
Within the specialization the following specializations are provided:
Physical-athletic and tourism-recreational activities granting the qualifications «Gender-mainstreaming trainer to physical-athletic, sports activities available enterprise, institution, collective farm, state farm»,
Coaching for sport granting the qualifications «Coach for sport (indicating the kind of sport)»,
Basics of physical rehabilitation granting the qualifications «Gender-main streaming trainer of physical rehabilitation»,
Management of sport and tourism granting the qualifications «Sport and tourism manager».
Stage Two of Higher Education
Specialty 1-08 80 04 «Theory and methodology of physical education, sports training, wellness and adapted physical education»
The qualification: Master in Education
Education forms:
full-time study
extra-mural study
Term of studies:
full-time study of II level: 1 year
extra-mural study of II level: 1.5 years
Our graduates can work as:
Teachers,
Trainers,
Methodists,
Educators of Physical Culture and health work and tourism,
Methodists on physical rehabilitation,
Sports managers and tourism,
Specialists in the structures of the Ministry of Internal Affairs and the army.
Address:
210033, Republic of Belarus, Vitebsk, Chapaev Str. 30
E-mail: This email address is being protected from spambots. You need JavaScript enabled to view it., vsu.by
Telephones:
+375 (212) 26 13 13,
+375 (33) 317 95 05