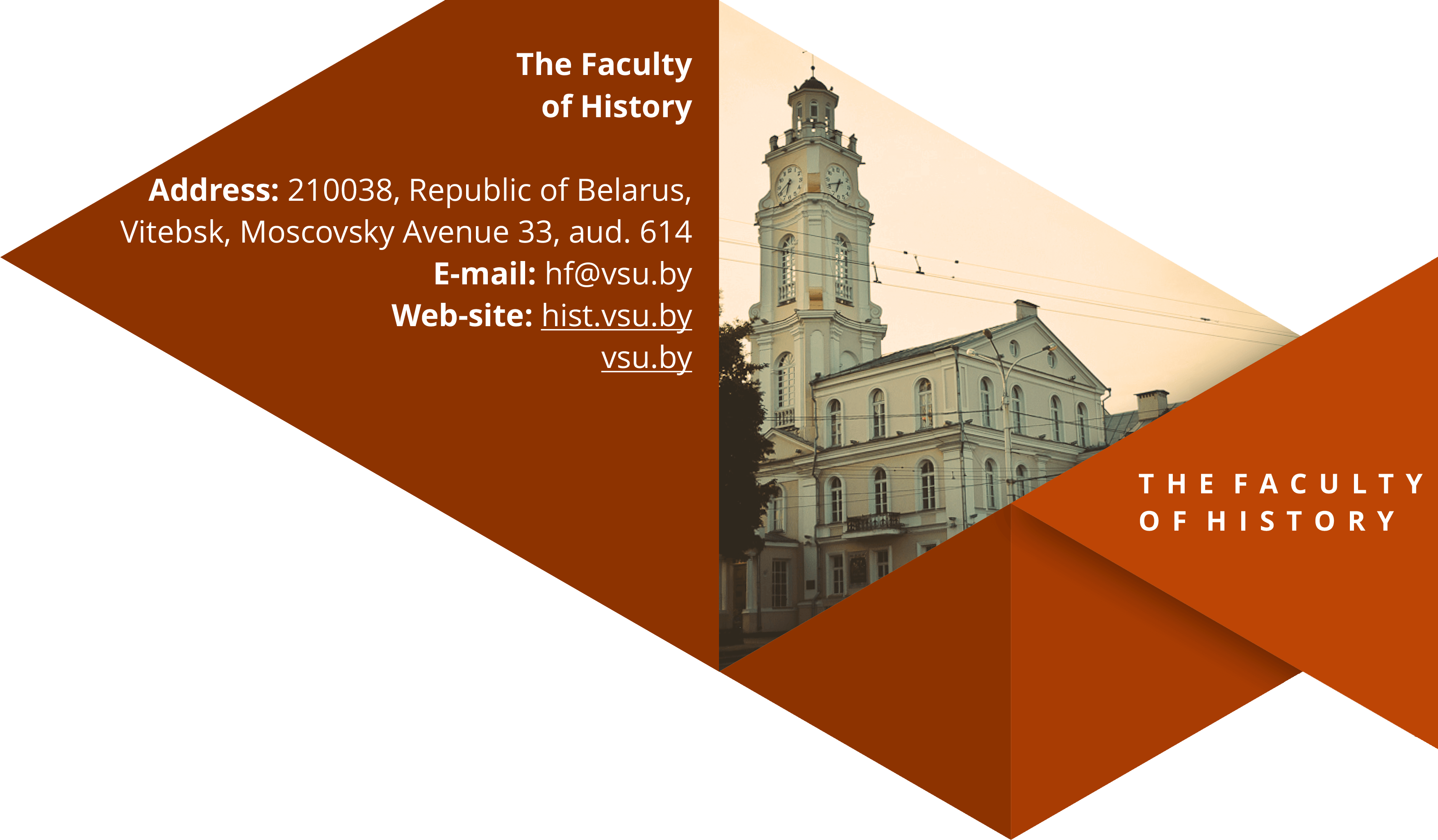 The Faculty of History of Vitebsk State Masherov University was opened in 2001. The faculty of history today is the center of culture and enlightment in Vitebsk region
The training of students at the Faculty of History is being constantly improved by using modern teaching technologies, integrated assessment of students' knowledge and by making the educational process more practice-oriented. The positive experience of Belarusian and EU universities is also used in teaching. The Faculty is developing good relations with other higher educational institutions of Belarus and scientific and educational centres abroad. The Faculty of History together with its partners from Germany, the Czech Republic, Slovakia and other Belarusian higher educational institutions participates in the realization of the European Commission project 516630-TEMPUS-1-2011-1-DE-TEMPUS-JPHES «Teacher Education and Training in Tourism in Belarus» (TETVET), which is a part of the Tempus IV programme.
The Faculty possesses all modern facilities and equipment for educational process, scientific and research activities.
The faculty is headed by PhD in Historical Sciences, Professor Veniamin Kosmach
Chairs:
Chair of World History and Culture;
Chair of History of Belarus;
Chair of Social and Humanitarian Sciences
Full-time study (4 years` course):
History and Social Sciences.
Qualification: Teacher
Part-time study (3,5 years` course)
Museology and protection of historical and cultural heritage.
Qualification: Manager for Cultural Heritage and Tourism
Our alumni can work as:
researches and guides at museums and travel agents
excursion guides and travel assistants in tours
teachers at educational establishments.
Address:
210038, Republic of Belarus, Vitebsk, Moscovsky Avenue, 33 aud. 614
E-mail: This email address is being protected from spambots. You need JavaScript enabled to view it.
hist.vsu.by, vsu.by
Telephones:
+375 (212) 37-97-38
+375 (33) 317-95-01